Atlanta Zen Meditation; Meditate Retreats; Mindfulness Groups; Meditation Classes; and More!
---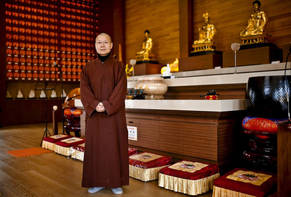 Beginner's Meditation and Fundamentals of Buddhism
Sequential weekly class, 6:30pm - 8:30pm
Join us in January 2018 -- starts Tuesday 1/9!
Can't wait? Drop in for One Hour Meditations - Everyone is Welcome
Free guided meditation sessions open to newcomers on weekends in December, 10am - 11am,
​Sat & Sun Dec 2, 3, 9, 10, 16, 17, 23, and 24, 2017!
Children's meditation class on Sundays at 2pm
at
Dharma Jewel Monastery
, Atlanta Zen Buddhism Center
---
---
GDPT Kim Cang & Tu Vien Kim Cang present:
WINTER WONDERLAND: Buddhist Youth Winter Camp
December 23 - 25, 2017
Ages 6 - 18
Free!
- Buddhist seminars with visiting monastics
- All day Fun & Games
- Movie Night
- Talent Show & Party
- Overnight stay or day camp, both options available
- Bring a small secret santa present to share
Registration Deadline December 16, 2017
For more details, please email us at
info@georgiameditation.org
and we will connect you with the application.
---
Compassionate Water Repentance Ceremony, Dharma Jewel Monastery - Atlanta branch of Chung Tai Chan Monastery
Dec 30 & 31
​

All are welcome. Bilingual Mandarin / English.

This ceremony reminds us to purify our mind and thus deepen our compassion and wisdom within. We sincerely invite everyone to attend this event - chanting of the Universal Gateway Chapter of Avalokitesvara Bodhisattva (Guan Yin) of the Lotus Sutra is in Chinese, with English transliteration and translation.

A Grand Meal Offering before the Buddhas / Blessing & Memorial Service (chanting) and free vegetarian lunch follows.
​

2550 Henderson Mill Rd NE, Atlanta, GA 30345

Phone: 770-939-5008

www.dharmajewel.us
---
---
"Mindfulness of Impermanence" Zen Meditation Workshop at Emory University
January 11, 6pm (in addition to weekly guided meditation every Thursday at 6pm)
In Cannon Chapel on the main campus. Park at Peavine Lot, 27 Eagle Row. Free event and all welcome.
Meetup
|
Facebook
---
Vipassana Meditation Retreat
Saturday Jan 13, 9am - 5pm
​Kim Cang Monastery
4771 Browns Mill Rd, Lithonia, GA 30038

Guided meditation, practices of sitting and walking meditation, listening to talks in English from Insight Meditation Society, and Dharma discussion. Free event; a vegetarian lunch will be provided at no charge. All are welcome to join. You are encouraged to attend a full-day meditation practice. However, if you are unable to attend for the entire period, you may come for any part that suits you.


9am: Introduction of Vipassana Meditation Practice
9:15am: Guided Sitting Meditation
10am: Walking Meditation
11am: Sitting Meditation
12:15pm: Lunch
1:30pm: Listen to Dharma Talk & Dharma discussion
3:30pm: Walking Meditation
4pm: Sitting Meditation & Sharing Merits

---

Cognitively Based Compassion Training in Roswell
Roswell Insight Meditation (RIMC) will be hosting CBCT® (Cognitively-Based Compassion Training), a program developed by Dr. Lobsang Tenzin Negi at Emory University. Carol Beck, Assistant Director for the Emory-Tibet Partnership, will be the lead instructor. http://www.roswellinsightmeditation.org/

---

One Day Vipassana Meditation Retreat at Georgia Buddhist Vihara

Saturday Aug 28, 7:30am - 5pm

This retreat is open to everyone - those who are new to meditation as well as those who are experienced meditators. We will eat breakfast and lunch together during the retreat -- please consider bringing a vegetarian dish to share. Offered at no charge, dana (donations) are appreciated.for details visit www.gavihara.org

---
---

The Foundation Series at Drepung Loseling Monastery
January 13 - May 12, 2018
10:00 am to 4:00 pm
Monthly on Saturdays, taught by Geshe Dadul Namgyal
The Foundation Series will cover the foundational practices common to all three "yanas" or vehicles. It will begin with an "Introduction to Buddhism" and continue with retreats on four universal Buddhist meditation practices. For students who have completed the Foundation Series, we have also created a five-part Intermediate Series, which will begin in 2018 with an "Introduction to Mahayana Buddhism" and then cover four essential Mahayana meditations.
January 13, 2018 - Introduction to Buddhism

February 10 - Shamatha Meditation: Alleviating Stress and Cultivating Inner Balance
March 10 - Vipashyana Meditation: Cultivating Personal Insight into Our Inner World of Thoughts, Reactions, and Emotions
April 14 - The Four Immeasurables: Loving kindness, Compassion, Joy, and Equanimity
May 12 - Refuge: Entering the Path of Inner Transformation
​
Note: Tuition fee applies. To register for these courses please call the center at: 404-982-0051
$58 per Class for DLM Members and $65 for non-members
Full Series: $245 for DLM Members and $275 non-members
Members who have completed the entire series in the past may repeat for FREE, but are still required to register.
Drepung Loseling Monastery
1781 Dresden Dr., Atlanta GA 30319
---
---
Save the Dates:
---
Overnight Retreats:

Have you ever wanted to go on a retreat?
Whether you're a student or a retiree, here's your chance to totally immerse in Buddhist practice.
Beginner's track in English available during these sessions at the City of Ten Thousand Buddhas in northern California. Summer, Fall, Winter, and Spring retreats available.
Check out more details at
www.drbux.org
Other Summer Programs for Young Adults and University Students:
(All accepted participants will receive a full scholarship to cover costs!)
In China:
Woodenfish Humanistic Buddhist Monastic Life Program
:
www.woodenfish.org
In Taiwan:
Fo Guang Retreat:
https://www.fgs.org.tw/events/fgmonasticretreat/
---
---
Calendar of Recurring Events:
Upcoming Regular Meditation Group Meetings, 2017 Autumn Schedule Sorted by Day of the Week
Beginners welcome! All events listed here are offered at no charge and in English.
Try different groups as they each have a different "flavor".
Sundays9am - 11am:
Guided Meditation,
Ky Vien Thien Vien
(Wonderful Garden Buddhist Meditation Center)
9am - 11am
: Weekly meditation and discussion,
Red Clay Sangha
10am - 11am:
Open House with Initial Instruction,
Shambhala Center of Atlanta
11am - noon:
Beginner's Meditation,
Drepung Loseling Monastery
2pm - 4pm
: Sutra Study in English
Kim Cang Monastery
2pm - 3:30pm
: Children's Meditation Class,
Dharma Jewel Monastery
(registration required)
Mondays6:30pm - 8pm:
Guided Meditation and Discussion, Insight Meditation Practice,
Roswell Insight Meditation
6:30pm - 8pm
: Atlanta Insight Meditation Community (meets at UU of Atlanta)
Tuesdays
6:30pm - 8:30pm: Beginner's Zen Meditation and Introduction to Buddhism Course,
11-week class starts January 9, 2018 at
Dharma Jewel Monastery
6:30pm - 7:15pm: Medicine Buddha Practice (Tibetan Buddhism - all are welcome),
Drepung Loseling Monastery7:30pm - 9pm: Public Buddhist Teaching,
Drepung Loseling MonasteryWednesdays6:30pm - 8:30pm
: Zen Meditation and Sutra Study,
(Prerequisites Required)
Dharma Jewel Monastery
7pm - 9pm:
Vipassana Meditation,
Georgia Buddhist Vihara
7pm - 8:30pm:
Insight Meditation,
Sandy Springs Insight Meditation
7pm - 8:30pm:
Dhammakaya Meditation,
Georgia Meditation Circle
7pm - 8:30pm:
Cognitively Based Compassion Training,
Multiple courses each semester -- Tuition applies for non-Emory affiliates
Emory University / Emory-Tibet Partnership
Thursdays6pm - 7:15pm:
Guided Meditation,
Emory Buddhist Club, Cannon Chapel Basement (free parking at Peavine Lot)
6pm - 7pm
: Compassion Meditation,
Drepung Loseling Monastery
Fridays11:15pm
: Sixth Patriarch Platform Sutra Study Course with Dr. Martin Verhoeven,
Live from Berkeley Buddhist Monastery or Youtube: DharmaRealmLive
Saturdays9am - 10:30am:
Guided Meditation,
Buddhanara Temple
5pm - 6:30pm
: Guided Zen Meditation,
Jun Dung Sa Temple
6pm - 8pm
: Vegetarian Dinner and Mindfulness Meditation, (most weeks - check Facebook page for details)
Vien Ngo Zen Center
10:30pm
: Avatamasaka Sutra Study Coure with Venerable Heng Sure,
Live from Berkeley Buddhist Monastery or Youtube: DharmaRealmLive
Monthly RetreatsGeorgia Buddhist Vihara:
One-Day Vipassana Meditation Retreat,
Saturday at 7:30am - 5pm
www.gavihara.org
Kim Cang Monastery:
One-Day Vipassana Meditation Retreat,
Usually on Second Saturday of the Month, 9am - 5pm
Mindfulness Meditation Society
Dharma Jewel Monastery
: Half-Day Zen Meditation Retreat,
Once a month on Sundays, 9:30am - 12:30pm
www.dharmajewel.us
Dharma Drum Mountain Buddhist Association Atlanta Branch
: Chan (Zen) Meditation Retreat
Once a month on Sundays
www.ddmbaatlanta.com
More details: Go to our
page Atlanta Meditation Events
to learn about each group's schedule